Evaluating The 7 Top Painting Franchises? Who Finished First?
Painting franchises reviewed include:

Before taking that great leap of faith, shouldn't you know which painting franchise is the best? There are considerable differences in each franchise that ultimately can be the difference of $100,000's in your pocket.   There are real significant differences in these franchises.  So,  before you invest your life saving, let's take a few minutes to evaluate all your choices. 
This article evaluates seven painting franchises in four of the most important categories.
Territory (opportunity for growth)

Training  (ability to acquire the proper knowledge)

Initial cost (startup cost)

Ongoing fees (royalties and other expenses that impact the bottom line) 
If you have been looking at investing in a painting franchise, you have probably asked:
Is one territory big enough?  Should I buy two?
After the training, am I going to know how to run a painting franchise?
What are the initial costs to get started? 
After royalties and other expenses, what are my net margins?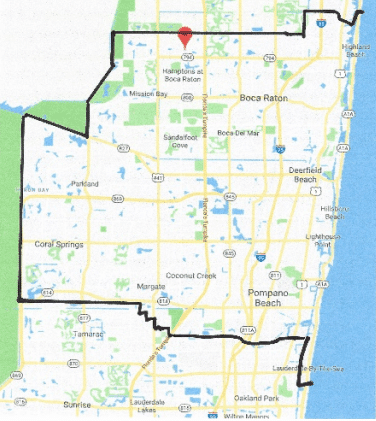 In order to compare apples to apples, all data is taken straight from each franchisor's own 2020 FDD.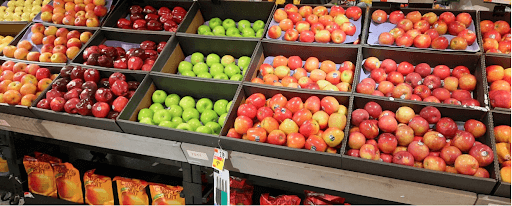 If you are not familiar with Franchise Disclosure Documents or FDD, let me explain.
It is a document that should include all fees, costs, restrictions, guidelines about the franchise.  
FDDS are all laid out in specific topics in a particular order, so it's easier to find and compare.  For example, all FDD's will have information on royalties and other fees attached to gross sales in ITEM 6. 
Here is the table of contents taken from Klappenberger & Son
FDD are lengthy documents and not taking the time to read and understand the details can be very costly.
In the FDD, Items 6,7,11,12 are the most significant for this article.  They list the startup fees, royalties, and ongoing fees, territory, and training. 
But before we get into the details,  a quick note about me.  I am one of the franchises in the discussion.
I started Klappenberger & Son, a painting and handyman company, in 1989. In 2015, I began to franchise it and continue to do so today.
I have gone to great lengths to be as objective and neutral as possible.  
As I mentioned, all data comes from each franchisor's own 2020 FDD.  I do include my analysis of the data, which comes from my 30 years of experience.  
The Painting Franchises Include: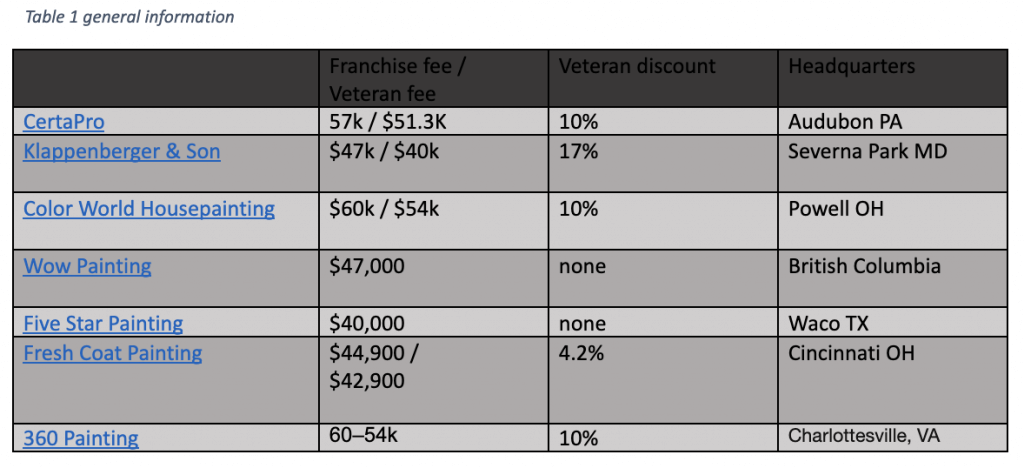 Protected Territory and Type of Work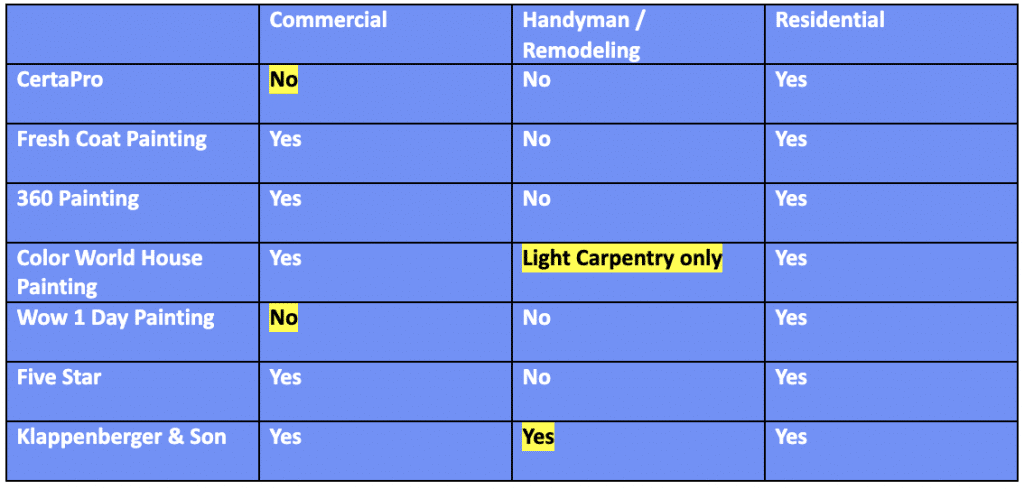 Most people who buy a painting franchise do not have any experience in the industry.
That makes training and support very critical.  The task of painting is not very complicated. However, there is a lot to learn about the industry. Therefore it is paramount for the training to include significant time on: 
paint products 

Best practices for applying paint

Estimating

Marketing and Advertising strategies

Sales

Employee and Subcontractor relationships
Crucial: What Is The Best Type of Training?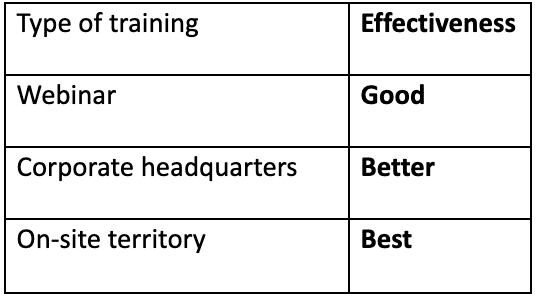 We all know from experience that webinars can be challenging to stay focused on for an extended period.

Training at corporate headquarters is better. 

On-site training is the best.  The trainer can work with the franchisee in their territory and possibly help with hiring, estimating, and sales.  One-on-one education occurs in real time.  Something that headquarters training or a webinar can not duplicate.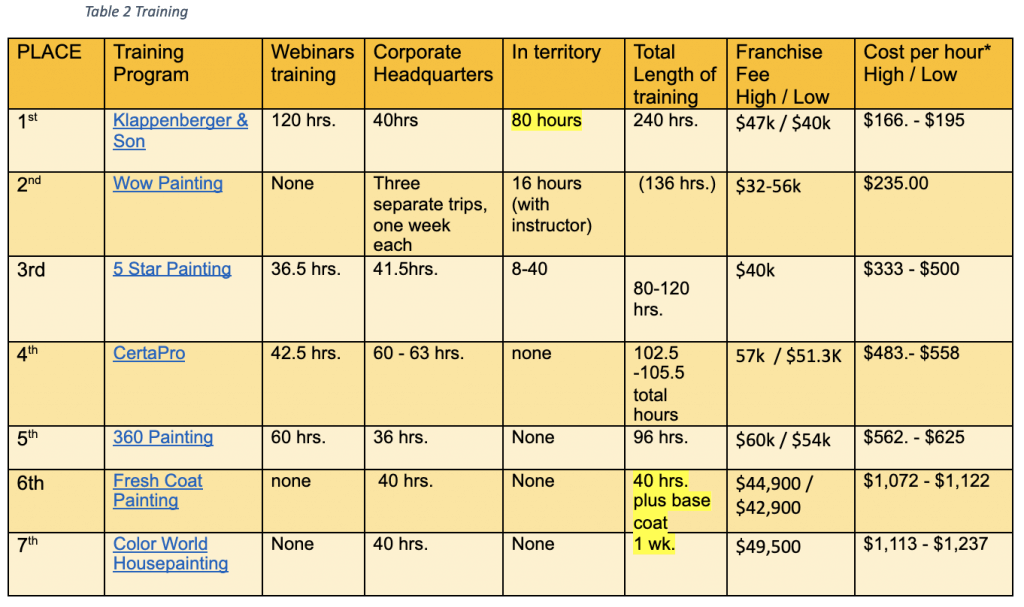 *Divide the franchise fee into the total number of training hours
Painting Franchise Training Results
6th Place Tie: Color World House Painting & Fresh Coat Painting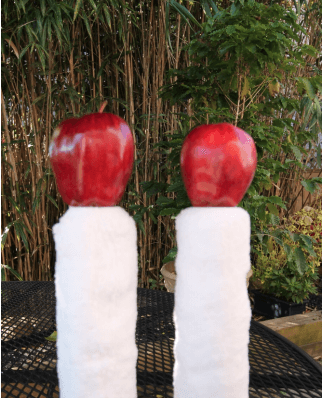 With 40 hours of training, there is little time to learn anything but the business basics.
Below is a schedule of Color World HousePainting training taken from their FDD.  There is no mention of:
Painting products 

Troubleshooting why paint is failing

Estimating
(96 hours)  60 of the hours are through a webinar and only 36 hours of corporate training.
(102 hours) For having one of the most expensive franchise fees, the training could be more in-depth. There is no on-site training.
(80-120 hours) Five Star provides 1-5 days of on-site training.   Even if the trainer stays for a couple of days, it can improve the new franchisees' confidence and morale.  Five Star also requires an annual mandatory "reunion training" at franchisees' expense.  I like the reunion training.  It will fill in some of the gaps in training.
Wow 1 Day Painting has an in-depth training program, but wow, does it require traveling.   There are three separate trips to Vancouver, Canada!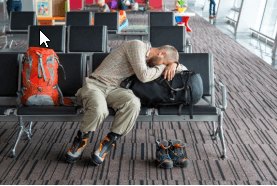 Also, Phase 3 is concerning.  Phase 3 includes 4-6 weeks of sales and marketing "targets" but no opportunity to start jobs?

Phase 5, Wow 1 Day Painting, has an instructor arrive on-site (2-5 days) for continued training.  
Phase 6 concludes with a trip back to Vancouver for final training.  
From the start of training to completion is about three months.   I struggle with the fact that no income will be able to be generated for three months.  That can be very stressful for you and your family.
#1. Klappenberger & Son (240 hrs.)
No other painting franchise comes close to having the total number of hours Klappenberger & Son provides.  The franchise training includes one week at the corporate office, webinar meetings, and two weeks of in-territory training.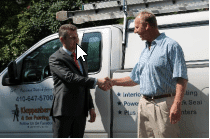 For individuals with no experience in the painting industry, the six-week program enables the franchisee to learn, practice, and grow with its founder.
Small fees attached to gross sales add up, and it all comes out of your bottom line.
Knowing and understanding the royalties and advertising fees is very important.  
These fees are charged based on gross sales.  If a company has a net margin of 20%, a 2 % margin equals a 10% cut in your pay!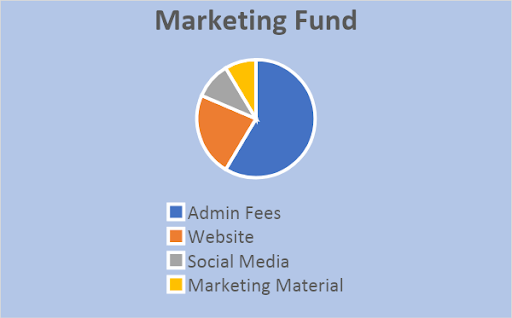 The marketing fees generally go to anything the franchisor chooses as long it goes towards brand awareness.
But just because you pay into it does not mean you will find a direct benefit.  Having smaller Brand development fees allows you to have more control of your profit and marketing dollars.
These fees are in addition to what you are obligated to spend on advertising.  
Royalties and Marketing Funds Attached to Gross Sales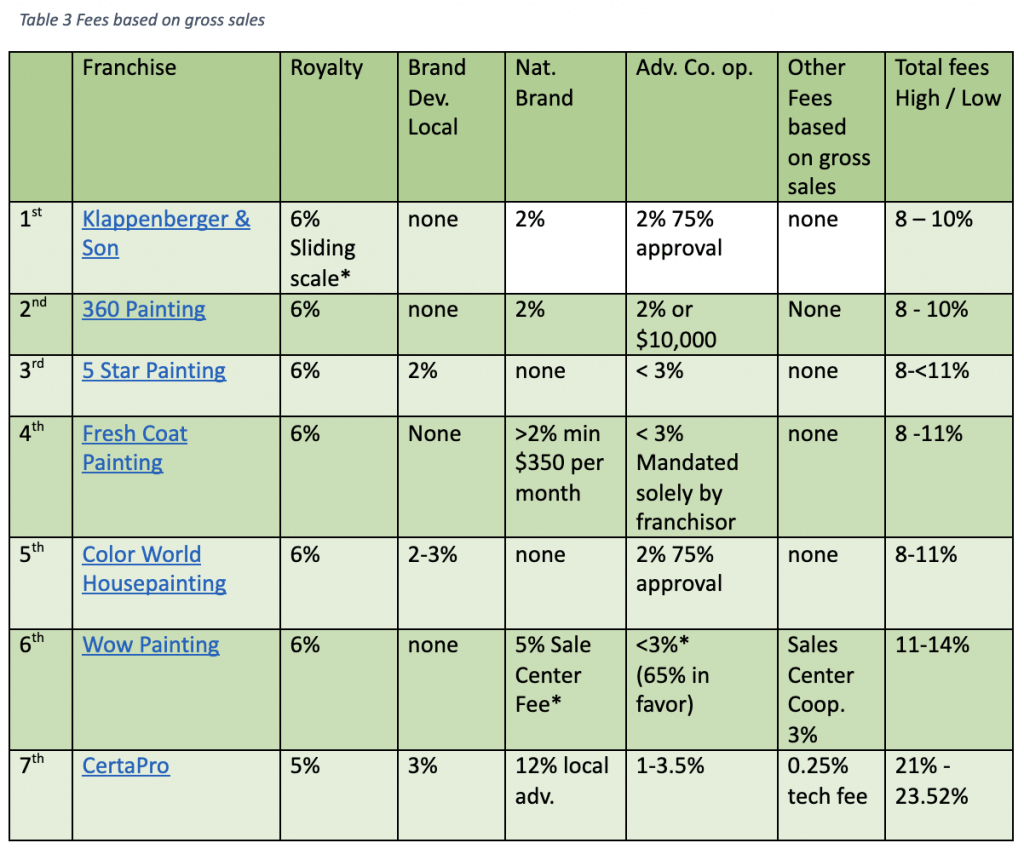 Has the second-highest minimum marketing fees and potentially the highest.
CertaPro requires you to spend an additional 12% of your gross sale or $40,000 advertising annually.  These advertising fees are in addition to all other ongoing fees.
But wait, there's more…  
CertaPro can also charge a 12% fee for referrals!  
From CertaPro's FDD:
"CertaPro may establish other distribution channels, such as the internet, catalogs, telemarketing, or other direct marketing sales, in the franchise territory using our trademarks. You are not entitled to any compensation for any sales resulting from such efforts."
CertaPro also has a sales team that will, from time to time, solicit customers in a given territory.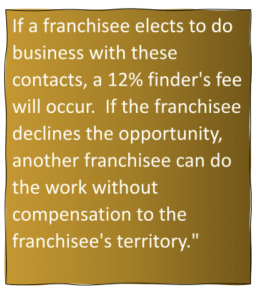 *Wow 1 Day Painting charges a 5% fee to cover website, social media, and CRM costs.  The 5% also includes additional sales and technical services, including administration costs. 
A 5% fee adds up very quickly.

Wow 1 Day Painting is entitled to implement a Cooperative Branding fee with 75% franchisee approval.  A local cooperative fund is standard, but the 3% max is higher than some.
Fresh Coat Painting is very similar to the top 4 except for one exception.  Fresh Coat ranks 4th  because the Local Cooperative Advertising fund is set at 3% (other franchises are 2%). 
#4. Color World HousePainting
Color World House Painting is very similar to the top 4 painting franchises.  The only difference is the local cooperative fee can increase by 1% of gross sales.
8-11% royalties.  These royalties rates are very comparable to 360 Painting and Klappenberger & Son.  The only difference is Five Star Painting has a Local Co-op that can go up to 3%.  The franchisees do dictate where the funds are dispersed and the amount of contribution.
A standard 6% royalties and a 2% Market Fund are paid based on gross sales.   
360 Painting has marketing funds for cooperative advertising set not to exceed $10,000 or 2%.   The franchisor can mandate this at any time.  
Klappenberger & Son is the only painting franchise that reduces the royalty rate as the franchisees reach specific calendar benchmarks.  The royalty rate drops 1% when the franchisee achieves $700,000 in gross sales and another 1% reduction at $1,250,000.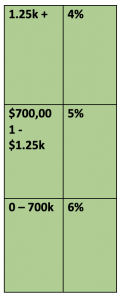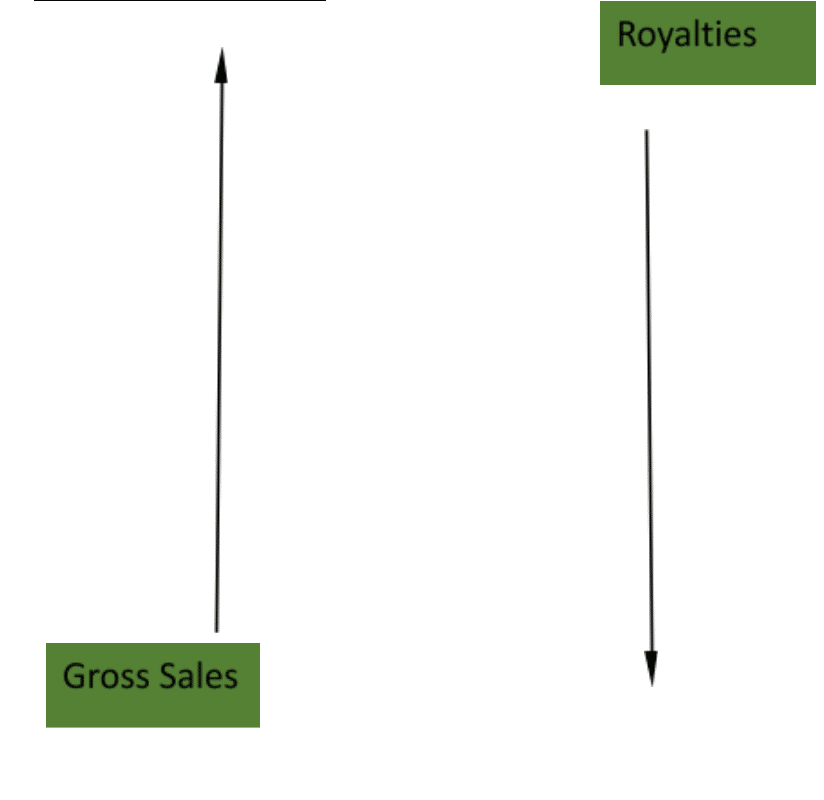 The deciding factor to make Klappenberger & Son #1 was the sliding scale royalty as revenue increases.  No other painting franchise offers this reduction. 
Having smaller territories can limit broader marketing methods such as billboards, radio, and TV.  Even joining local networking groups can generate jobs outside of what the franchisor will permit the franchisee to work.  
Besides showing each territory's size,  Table 4 shows the cost per person for an existing territory and additional territories.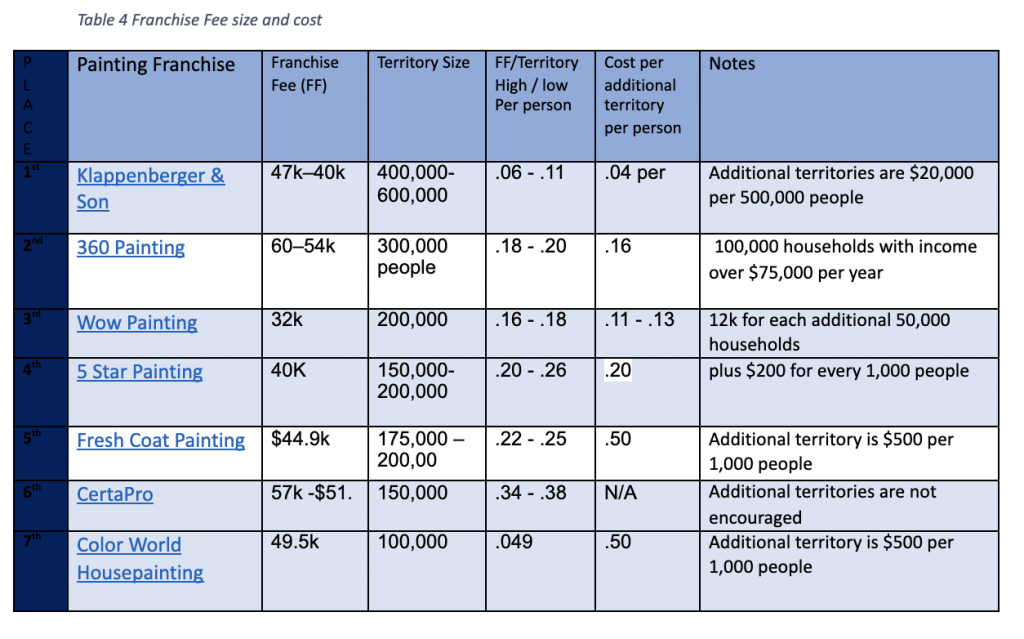 Territory size: Conclusion
#7. Color World House Painting –
Color World House Painting has the smallest territories and the highest franchise fee.

A 10% discount for additional territories is the least of the painting franchises.
Does not have the smallest territories, but they do have the most restrictions.
CertaPro does not give the franchisee exclusive rights to the territories.  
First, you can face competition from other franchisees and other affiliates or channels of distribution that they control.  
Secondly, franchisees have no right to do commercial work in their territory until they pass Commercial Services Certification. 
The CertaPro Commercial Certification comes with a $6,000 price tag.  If the franchisee elects not to get certified, another franchisee can do the work with no compensation.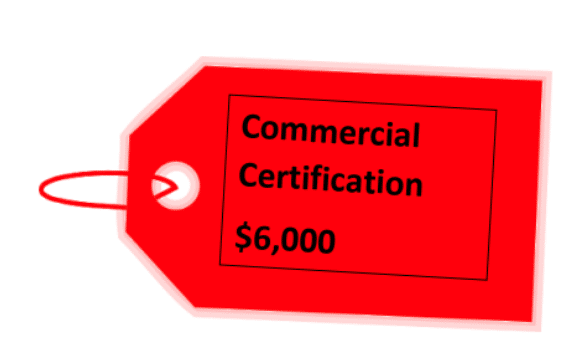 CertaPro does not mention the size of their territories in their FDD.  It states territories will be created before the signing and allocated by zip codes.  Also, there is no mention of what a second territory would cost.  This vagueness is not encouraging.  I have been able to surmise that the CertaPro Painting franchises in MD are between 150,000 – 250,000.
With a territory of  (175,000 – 200,000), it is very conceivable that one might want some additional customers.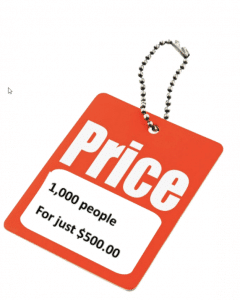 Fresh Coat charges $500.00 per thousand, which ties for second-most. 
If your territory is outside your home or your community will not allow you to have a home-based business. Consequently, you will need to lease or buy space.  This policy is a tremendous expense that will likely decrease your profit.
Five Star Painting is comparable to Fresh Coat except for the additional territory size, only $200 per $1,000 people.
The franchisor guarantees that at least 100,000 households will have incomes over $75,000.  These metrics should generate territories of 300,000 people.  
Discounts for a second and third franchise are 20% and 50% off, respectively. 
Wow 1 Day Painting divides their territories by households and calls them sub-territories.  A painting franchisee starts with two sub-territories.  Additional sub-territories are 12k.  
The downside:  Your sub-territory is not exclusive.  ITEM 12 of the FDD reads:

The non-exclusivity only extends to commercial accounts and not residential customers.  The franchisor will not open another Wow 1 Day Painting inside your territory.
#1. Klappenberger & Son -
franchises are easily 2-3 times larger than the competitors making it the best value.   Each person in a given area is between 6 and 11 cents.  The size of the Klappenberger & Son territory is so large that buying multiple territories is not necessary.  However, additional territories are only $20,000, which comes out to .04 per person.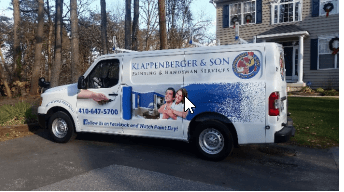 This figure will start to peel away why there is such a disparity in cost for painting franchises.  When a franchisor creates an FDD, they can put in allowances for necessary expenses. These allowances include stark differences for things you will need, such as a truck, accounting fees, tools, etc. 
This figure compares only two of the expenditures, advertising and additional capital.
Surprisingly as regulated as the world of franchising is, there huge swings in allowances for expenses.  This table highlights three significant differences.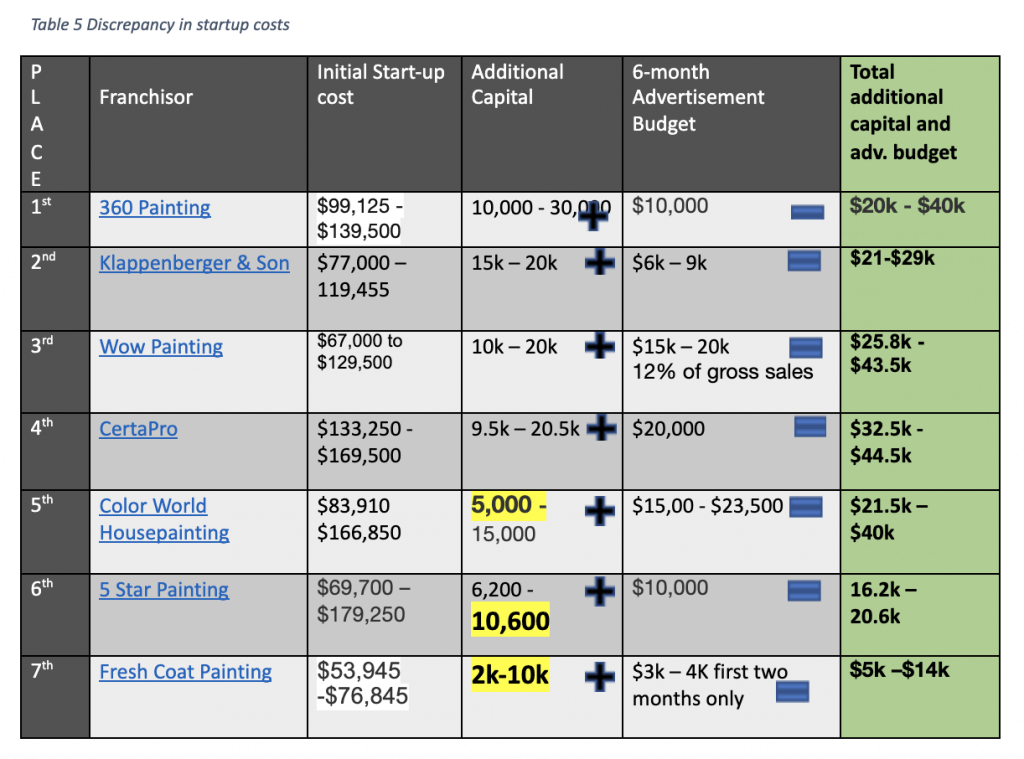 The order of 1st– 7th place was determined solely by Additional Capital,  not by the 6-month Advertising budget.  
The Advertising budget is included only to show the disparity in potential startup costs among the different painting franchises.  
Additional capital should be consistent for all painting franchises and not vary from $2,000 – $30,000!
Additional capital is for:  
Living expenses for at least 30-60 days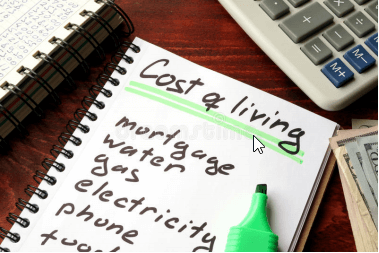 Fresh Coat, Five Star Painting, and Color World HousePainting have low additional capital allowances.  Additional capital is necessary to cover all costs while the business is ramping up. 
Having low additional capital allowances makes the painting franchise more attractive on paper.  However, you may find you need an additional $10,000 – $15,000 in the upcoming weeks. 
By underestimating additional capital and advertising budgets, Fresh Coat was able to keep its initial high and low investment low.  
See the green column on the far right of Table 5 
Comparing Apples to Apples: The Initial Startup Cost
All costs listed in table 6 are either one-time fees or ongoing.  The squares that are colored represent something unusual.
Ranking of Painting Franchises from A-Z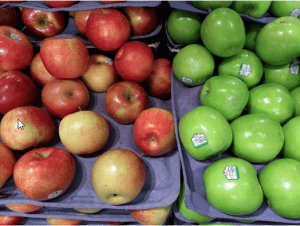 7th Place - CertaPro Painting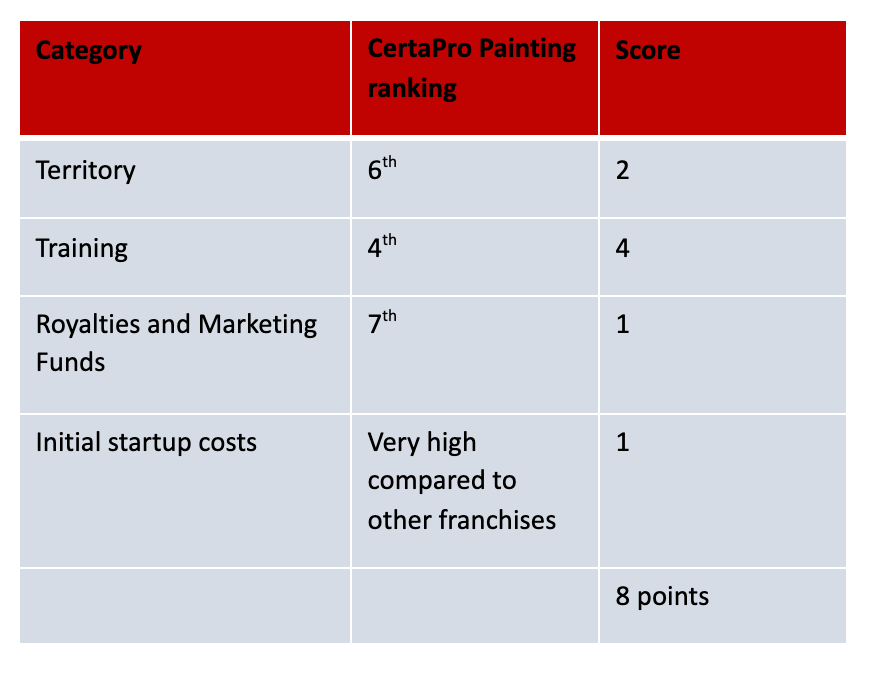 Certapro:  Apples to Apples 
Certapro leads all painting franchises in fees tied to gross sales and one-time fees that other franchises include.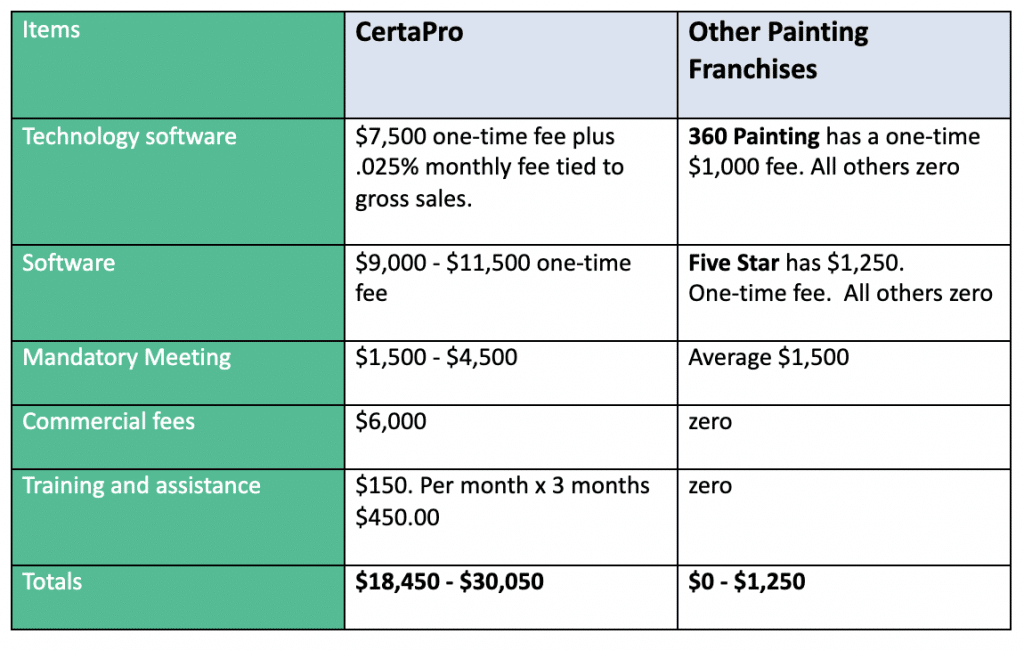 Besides the unique initial fees, CertaPro has the highest expenses that are attached to gross sales.  
How much more would a franchisee from CertaPro pay than a Klappenberger & Son franchisee if both grossed $1,000,000? 


*Certapro charges a 12% fee for franchisor referrals. In other words, if the franchisor gives you a lead and it results in a sale, there is an additional 12% fee added.  An estimate of 0 – 10% of gross sales was projected to be from franchisor referrals.
#6: Color World House Painting
Color World Housepainting ranks at or near the bottom of critical factors when evaluating painting franchises.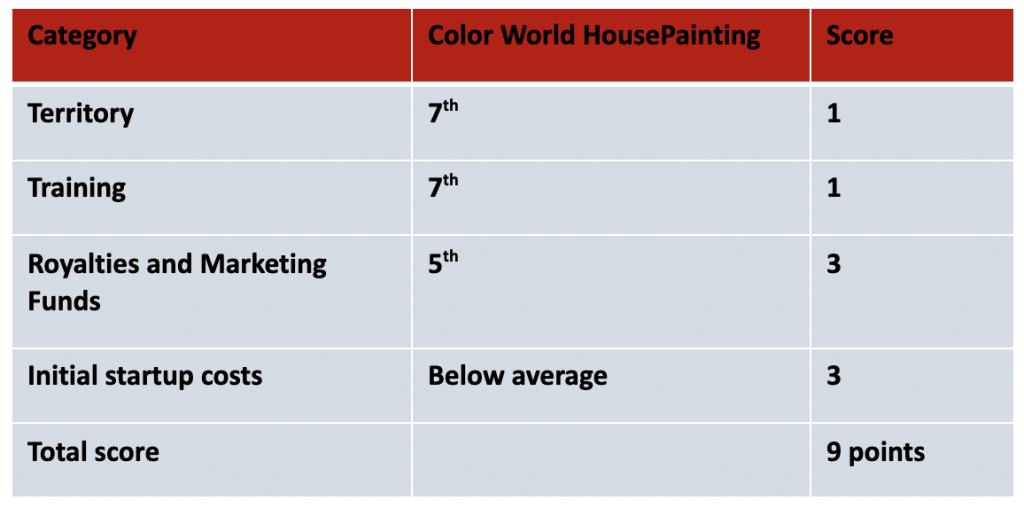 Fresh Coat has four items missing and six that are very low.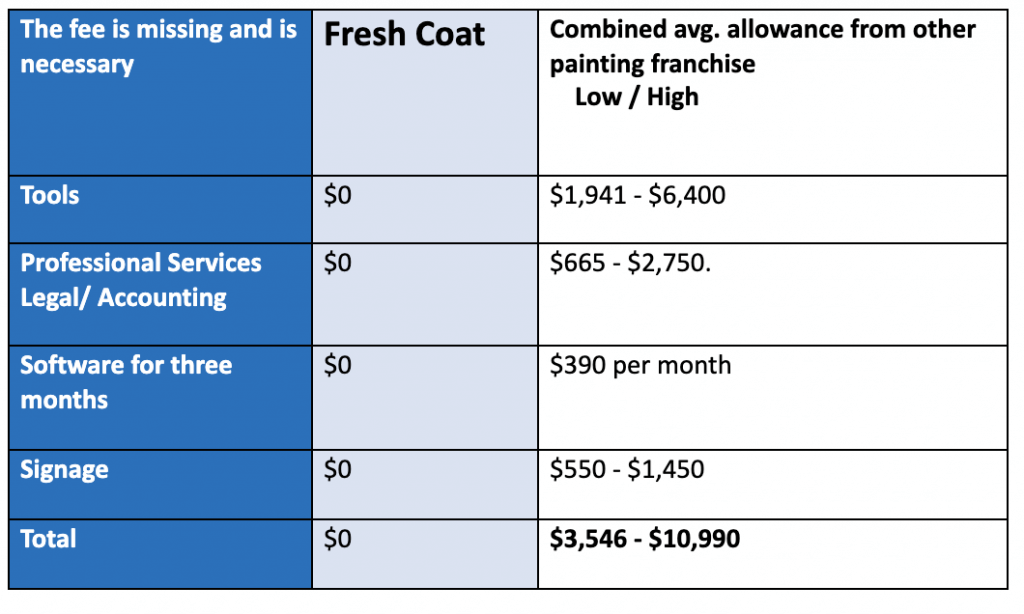 Fresh Coat also has unrealistically low allowances for six other categories.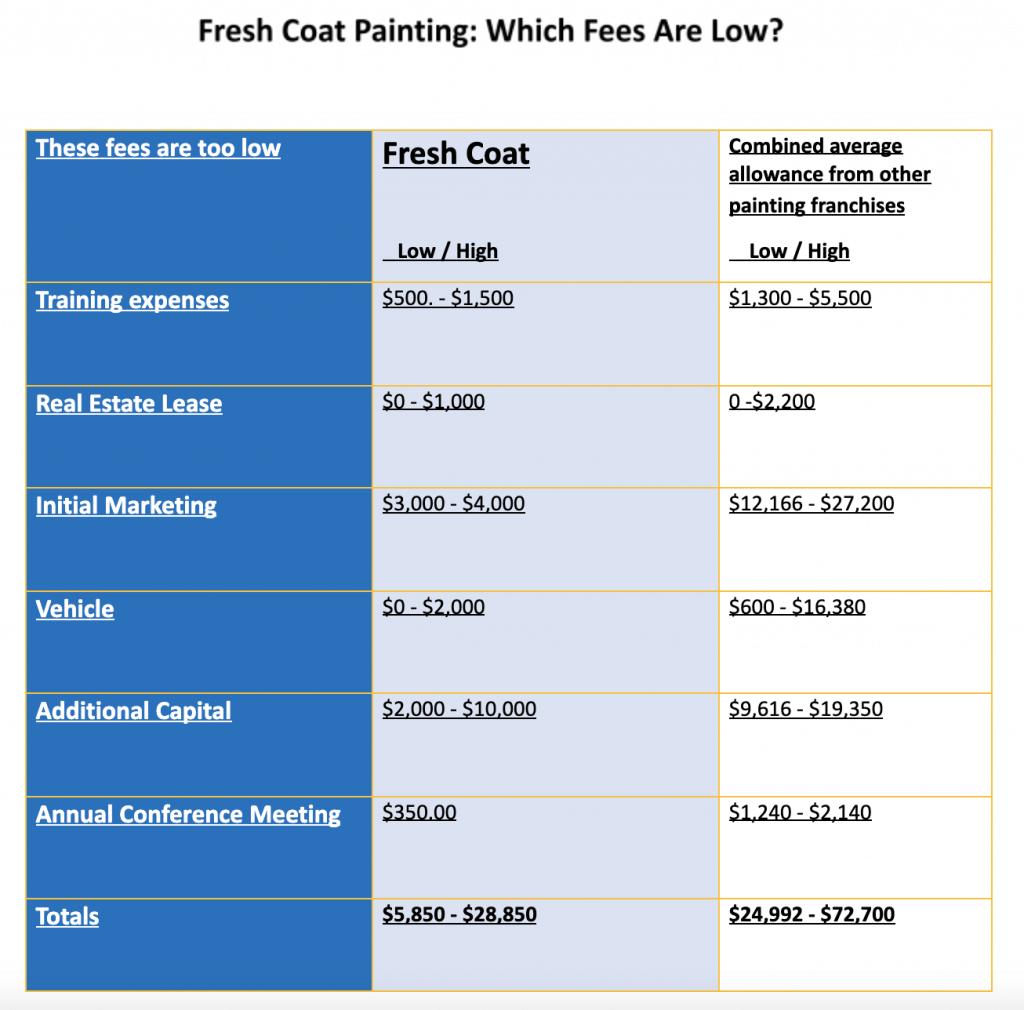 Fresh Coat Painting Conclusion: 
* underestimates costs
* inadequate training
* small territories
* poor value

Wow-1 Day Painting has scored very well in all categories except fees attached to gross sales.

If each painting franchise is grossing $1,000,000 for five years, this can be the difference $165,000 – $315,000 in net profit!

360 Painting has very reasonable fees attached to gross sales.  Their fixed cost is in line with what most franchisors are factoring in.  Three of the nineteen items listed in Table 7 have lower estimated allowances than most other painting franchises concluded.

Five Star will have the highest startup cost because they give the highest allowances for several categories.    They fall into the middle of the pack when compared to other painting franchises.

When considering the low franchise fee with the training and territory, the superior franchise is Klappenberger & Son.  
I designed our franchise that way on purpose.
Klappenberger & Son has the most friendly or lowest marketing fees that go towards brand development.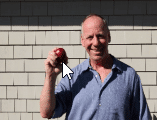 Some other franchisee friendly items that the other six painting franchises did not offer include:
* A sliding scale reduction in royalties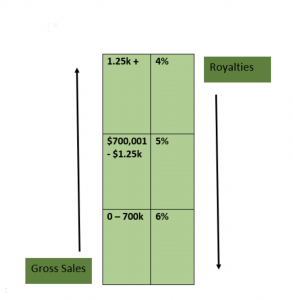 * Bookkeeping For Painters– organizes your records and performs job cost analysis.  
This feature is unique and certainly saves you time and gives you valuable insight into how the franchise functions. 
Have I mentioned the franchisee guarantee?  The franchise guarantee states that if you follow their marketing plan and fail to gross $500,000 in your first 20 months, Klappenberger & Son will reimburse the franchise fee fully. 

To learn more about a Klappenberer & Son franchise in your area, please contact us today!